Exclusive
Halle Berry 'More Committed Than Ever' To Move Nahla To France After Paparazzo Altercation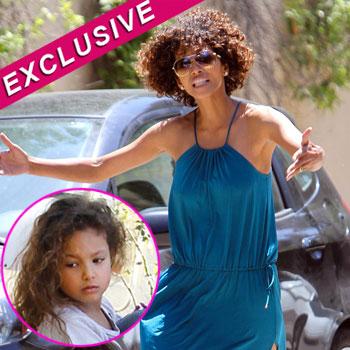 By Adriane Schwartz
Halle Berry is "more committed than ever" to moving her four-year-old daughter to France, following a nasty altercation with an over zealous and aggressive paparazzo, RadarOnline.com is exclusively reporting.
The pressure that has been building over recent months reached boiling point for the 45-year-old actress this week when she arrived to pick up Nahla from school and ended up in a heated verbal battle with an angry photographer.
Article continues below advertisement
The Catwoman star was swarmed by photographers and asked them get off the school property or she would call the police, reveals an eyewitness, prompting one snapper to snarl, "f**k off... you make millions and I have a right to make money too."
Halle became inflamed by the confrontation and began arguing with the photographer telling him, "Why don't you go do an honest job and stop harassing me and my daughter?"
A school official and another parent got drawn into the drama, and the police soon arrived to inform all of the paparazzi to leave the grounds and helped the Oscar winner safely escort Nahla to her car.
"The school has only ever seen this type of chaos since Halle arrived with Nahla," revealed a fellow parent, adding that even though there are other celebrity children who attend the school, they've only witnessed this type of aggression from the paparazzi towards Halle.
Article continues below advertisement
One of the mothers revealed that after the photographers were forced to leave by police, Halle broke down in tears and sobbed that this is no way for Nahla to live, saying she does everything in her power to protect the little girl.
In the past, friends have stated that Nahla is terrified when she sees the paparazzi anywhere and Halle has asked them to stop taking her picture and leave her alone. "They scream out her name constantly and say awful things about Halle in front of her," said a pal.