Exclusive
Halle Berry Custody Showdown: Gabriel Aubry NOT In Jeopardy Of Losing Daughter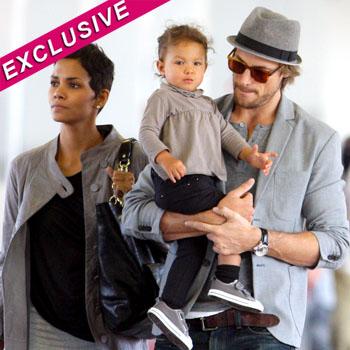 By Jen Heger - Radar Legal Editor
Media reports have surfaced that Gabriel Aubry is in jeopardy of losing custody of Nahla, his three year old daughter from Halle Berry, but sources close to the situation tell RadarOnline.com exclusively that is categorically not the case.
Aubry was in court Friday to contest having to take anger management classes as recommended by social workers after an alleged physical altercation with the warring couple's nanny.
Article continues below advertisement
The hearing being conducted right now is a child detention hearing, which is standard operating procedure when the Los Angeles Department of Children and Family Services becomes involved.
"A child detention hearing is always held when child protective services become involved in a case," a source close to the situation tells RadarOnline.com. "It's held to determine if the child should be removed from custody from one or both of the parents. In this case, DCFS hasn't recommended or found anything to remove Nahla from either parent's custody. Gabriel is fighting going to the anger management classes, and DCFS wants the judge to formally order him to attend the classes."
Reports say that DCFS is concerned about Nahla while she is with her father, but our source says this is simply NOT the case.
"DCFS has found no signs of physical or verbal abuse regarding Gabriel. They just want the judge to formally order Aubry to attend parenting classes with Halle and take the anger management classes. He has been resisting that because he feels like he has been railroaded unfairly. Gabriel wants the nanny to be held accountable for lying because he says he never even touched her," the insider says.
Article continues below advertisement
As RadarOnline.com previously reported, the nanny claimed that two weeks ago she was physically assaulted by Aubry, while holding Nahla -- an allegation the Canadian born model vehemently denies.
The nanny alleges the incident occurred after she went to pick Nahla up at school and she wasn't there, so she went to Gabriel's home. "Gabriel and the nanny got into an argument because no one alerted her that Nahla didn't go to school," a source told RadarOnline.com.
"She picked up Nahla to leave and Gabriel yelled at her and shoved her out the door so hard that she hit the wall while she had Nahla in her arms," the source alleges, adding that the nanny claims the abuse is ongoing. The nanny filed a police report and Aubry is now being investigated for misdemeanor battery and child endangerment. The Canadian born model denies the allegations.
Halle has requested permission from the judge to move to France with her fiancé Olivier Martinez, because she fears for her safety after a recent threat from a deranged stalker. Aubry has vowed to fight his ex on this latest request.
Article continues below advertisement