Exclusive
Halle Berry Was Advised Not To Pursue Move To France With Nahla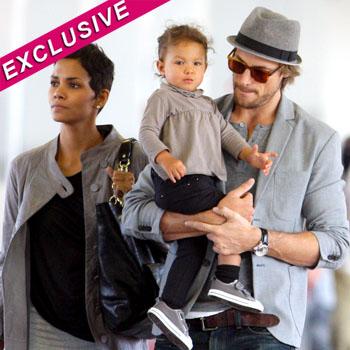 By Jen Heger - RadarOnline.com Legal Editor
Halle Berry was advised not to ask a judge to allow her to move to France with her daughter, Nahla, as she is currently embroiled in a bitter custody dispute with the little girl's father, Gabriel Aubry, and there was little to no chance that her request would be granted, RadarOnline.com is exclusively reporting.
Berry's camp warned the 45-year-old actress that the move would be viewed as not being in her daughter's best interest, but she proceeded anyway against their advice, a source close to the situation tells RadarOnline.com.
Article continues below advertisement
As RadarOnline.com previously reported, a Los Angeles judge ruled recently that Aubry's visitation with Nahla must be supervised and that he isn't allowed to have the little girl for overnight visits.
The former couple's custody war was ramped up another notch in January when their nanny alleged that Aubry physically attacked her while she was holding Nahla, a claim that Aubry vehemently denied. The Los Angeles City Attorney declined to press charges against Aubry.
The Academy award winning actress is no longer being represented by her long-time respected attorney, Neil Hersh. Berry hired Stephen Kolodny several weeks ago to be her new lawyer, he has represented Mel Gibson and Whitney Houston in the past.
"The fact is that Halle just didn't want to listen to the advice she was being given about not pursuing a move to France with Nahla right now," the source says. "Halle just can't understand why it would take so long for the judge to decide, but this is a drastic move to a foreign country. Halle was told to wait six months and perhaps as a result of the parenting classes that both Gabe and Halle are taking right now, they might be able to work out a new custody agreement without having to go to court.
MORE ON:
Celebrity Justice
Article continues below advertisement
"Halle absolutely didn't want to wait though, she is a very determined person. The judge has indicated that absolutely no ruling will be made for at least 6-9 months, and that will be after the psychologists, Nahla's court appointed lawyer and the custody evaluator submit their reports."
One of Aubry's frustrations is that Halle claims she needs to move to Europe as she feels unsafe in Los Angeles because of stalkers and paparazzi. However, the source says this just doesn't add up as far as Aubry is concerned.
"Gabriel said that Halle was picking up Nahla from pre-school, in a walking cast last week," the source says. "He says that she picked Nahla up by herself and that if she feels so threatened and vulnerable, why is she picking up Nahla without a bodyguard, especially when she is in a walking cast and vulnerable? It just doesn't add up."
RELATED STORIES:
Halle Berry Wants Gabriel Aubry To Sign Non-Disclosure To Stop Possible Tell-All