'Real Housewife' Aviva Drescher Plays Matchmaker With Sex Addict Dad & Sonja Morgan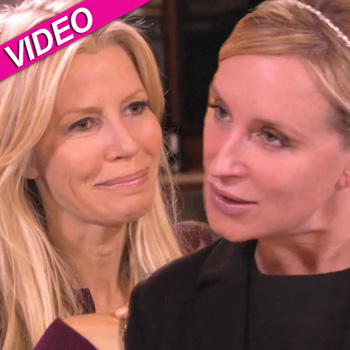 In a preview clip from Monday's upcoming Real Housewives of New York City, Aviva Drescher tries to play matchmaker between her father and Sonja Morgan -- using dear ol' dad's raging libido as the selling point!
Aviva invites her fellow housewives for a little Miami fun when, slowly pitching the idea to beautiful Sonja.
"I have two extra bedrooms and a condo," Aviva says, "and I'm having so much fun with Sonja and Ramona Singer that I'm gonna invite them."
Article continues below advertisement
That's when she started playing cupid, telling her how she loves Sonja's suitor "very, very, very much," that he's "tall dark and handsome," and "a sex addict.
"Is that good or bad?" she asked the entrepreneur Sonja, who admitted, "Well … I love sex."
"How do you know he's a sex addict?" Sonja asked Aviva, who dropped the bomb, telling Sonja, "He's my father!"
"If I were Aviva," opined cast mate Carole Radziwill, "I wouldn't be going around advertising that my dad is a sex addict!"