Real Housewives Aviva Drescher & Sonja Morgan Clash Over 'Girls Trip' Vacation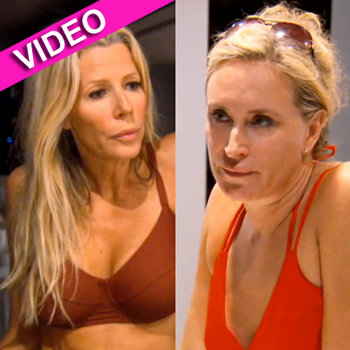 Article continues below advertisement
"I can't think of anything more boring than being with your husband tonight," Sonja told Aviva. "I'm down here by myself, I don't want to be with other peoples' guys … that's like bringing sand to the beach."
Aviva struck back, painting her castmate as promiscuous in an off-camera interview.
"Hearing Sonja referring to this trip as a 'Girls' trip,' knowing that she had brought home at least one man to have sex with him was just putting me over the edge," Aviva said.
As the voices and tempers flared up, Aviva called Sonja "two-faced" and "the biggest double-dealing person," which triggered a fiery response.
"Guess what: My mouth is money, you f***ing call me a double-dealer, you see where your a** winds up! I've been around a long time!" she yelled at Aviva, who sarcastically told Sonja she was serving as "a great example" for her daughter with the vile rant.
"You can do no wrong, you're the fabulous, you're over-the-moon ... you're bigger than everyone!" Aviva yelled before Sonja stormed out of the room.
Article continues below advertisement