Exclusive
LuAnn De Lesseps Relationship With Boyfriend 'On The Rocks' After Cheating Allegations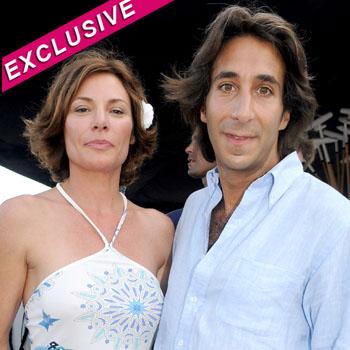 By Jen Heger - RadarOnline.com Assistant Managing Editor
The Real Housewives of New York City star, Countess LuAnn de Lesseps' relationship with boyfriend Jacques Azoulay, is on the rocks after allegations that she hooked up with a Johnny Depp pirate look-alike while on vacation with fellow cast members in St. Barts, RadarOnline.com is exclusively reporting.
"All of the housewives are sent advanced copies of the upcoming episode that is going to be aired a week beforehand," a source close to the situation tells RadarOnline.com exclusively. "Normally, LuAnn and Jacques watch the upcoming episode together but this past week, for the first time in a very long time, they didn't. The footage of LuAnn flirting up a storm with the Johnny Depp look-alike and the revelation that the countess brought him back to the house that night would seriously be a cause of concern for Jacques.
Article continues below advertisement
"Compound that with LuAnn's bizarre phone call in which she tells the hot pirate to deny being at the house at all and LuAnn telling Jacques during a telephone call on the vacation that she had run into some of her old Italian friends and Jacques is very, very upset with LuAnn. Jacques just doesn't understand why LuAnn would need to lie about the situation at all, unless she has something to hide. Their relationship is very much on the rocks, despite what LuAnn is publicly saying."
As previously reported LuAnn begged Bravo executives not to air footage of her and the pirate getting cozy.
"LuAnn begged Bravo execs to not air footage of the Captain Sparrow look-alike leaving the vacation house in the very early morning hours," an insider previously told RadarOnline.com. "LuAnn was absolutely beside herself at the prospect of the man leaving the house in the same clothes he was wearing the night before being seen on television, especially by her boyfriend."
Article continues below advertisement
However, de Lesseps maintains she absolutely didn't cheat on Jacques and wrote on her Bravo blog Tuesday: "What may have looked like infidelity on last night's episode was in reality a ride home with a friend and a tour of the house after an evening of fun on vacation eight months ago."
"Do you think I would bring a man back to a houseful of housewives (and cameras) if I were planning on having an affair?
"My big mistake was trying to avoid the speculation and assumptions by telling a white lie," the Countess revealed, claiming that there is no trouble in paradise. "As I write this, Jacques and I are on vacation and we couldn't be more united and happy."
Meanwhile, the Countess is blaming everyone and anyone for what looks like a steamy hook-up on camera.
"LuAnn is blaming the show producers for editing footage to make it look like she cheated on Jacques," the insider says. "LuAnn is steadfast in her denials to Jacques that she cheated on him. Jacques wants to view next week's episode now, but LuAnn is again stalling."