Ramona Singer On LuAnn De Lesseps Cheating Scandal 'She's Going To Have A Lot Of Backpedaling To Do'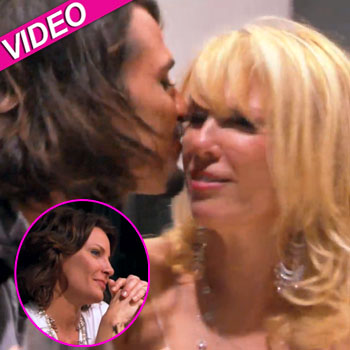 Article continues below advertisement
In the episode that airs on Monday, Singer says: "I know LuAnn brought a man home last night. I just wasn't quite sure who.
"But, hey, you don't have to be a rocket scientist to figure out who it is now."
She adds: "So I don't know why they're playing this game. But, you know what, I'll play it too. Why not? Let's play cat and mouse everyone."
Clutching a glass of wine Singer pulls Tomas aside peppering him with questions like: "Were you here last night? You were here last night, right?"
Finally, the socialite tells the camera: "I wasn't looking to nail LuAnn to the wall. I was just playing with her. LuAnn likes to make up her own stories.
"I don't know what the big deal is. She's not married. She's single. Who cares who she brought home? He could be a two-legged pig for all I care."
She then adds: "Jacques' not going to be too happy when he hears about this. LuAnn's going to have a lot of backpedaling to do."