Exclusive
Anderson Cooper Wants Round Two With Teresa Giudice Following 'Mean' Comments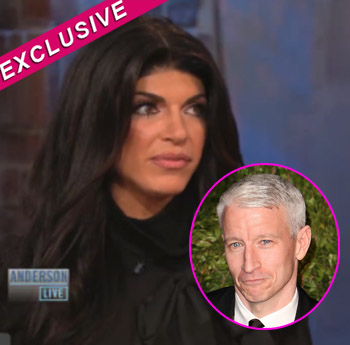 Article continues below advertisement
"Anderson wants her back as soon as possible, he feels there's still a lot of ground they can cover," the source says. "He also feels kind of bad for tearing into her and not really giving her a chance to tell her side. I think round two will give Teresa more of a platform to express herself, and there will be less of an attack on her."
The showdown happened on September 26 when Guidice appeared to talk about her upcoming reunion show.
After seeing a preview clip in which Teresa tells her cast mate Caroline Manzo that she has three rolls of 'blubber' Cooper let loose on Giudice, slamming her and telling her how much he hates the insults.
"I don't care. You're not 12 years old," he scolded her.
Cooper also called her "mean" and the audience went wild when he jumped down her throat after she tried to defend her actions.
According to sources on the set of his show, Giudice isn't the only one on the receiving end of Cooper's anger recently.
Article continues below advertisement
"He's been going through a tough time since his boyfriend was caught cheating on him and he's taking it out on everyone around him," said the insider referring to photos which surfaced of his longtime partner Ben Maisana kissing another man in New York.
"Show staffers say he is the male version of the Devil Wears Prada and has been terrorizing everyone including Teresa.
"Show staffers are also worried that the show will be cancelled due to low ratings and Teresa increased ratings 100 percent. When Anderson saw the ratings Teresa pulled in he decided he loved her and wanted her back as soon as possible."