Teresa Giudice's Emotional Breakdown: I Need Help, Everyone Is Against Me & Ganging Up On Me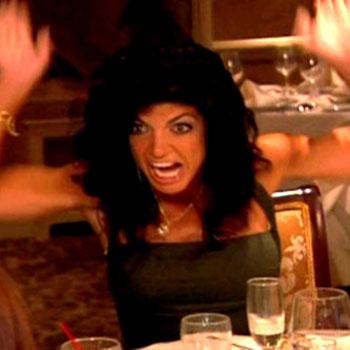 The most hated Housewife on television, Teresa Giudice, has spoken out about the darkest moments of her breakdown, and RadarOnline.com has all the details.
The Real Housewives of New Jersey star has courted scandal and drama ever since the show began – from bankruptcy to dealing with rumors that her husband Joe cheated on her – but until her meltdown at the show's reunion episode, which airs on September 20, she had fiercely refused to shed even a single tear.
Article continues below advertisement
RadarOnline.com can reveal details of Teresa's breaking point and how she hit rock bottom after her behavior led to her being almost completely alienated her from her family and other cast members.
"I said to myself I wasn't going to get upset, but I couldn't help it," the fiery reality star told In Touch.
"After the taping was done, I broke down. I started crying and I couldn't stop."
Mother-of-four Teresa's breakdown came after an explosive season finale of RHONJ where she was accused of trying to set up her sister-in-law Melissa Gorga, by exposing her alleged past as a stripper.
However Teresa furiously denied this accusation and said: "I know in my heart I did nothing.
"I feel like I'm making myself sick over this.
"I'm tired of getting blamed for things I didn't do. It's exhausting."
Melissa, 33, is married to Teresa's brother, also called Joe, and in the beginning the two families were close.
But Teresa's explosive temper and the fact that Melissa signed on to the show behind Teresa's back created masses of tension between the Giudices and the Gorgas, and it all came to a head with "Strippergate".
Article continues below advertisement
The other women on the show, Jacqueline Laurita, Caroline Manzo and Kathy Wakile also want nothing to do with Teresa anymore.
Once her staunchest ally, Jacqueline has said: "My relationship with Teresa is non-existent…I prefer it that way."
Teresa admitted: "I need help. Everyone is against me and ganging up on me."
Relations between the cast members have become so frosty that the show's producers are apparently considering bringing in a "friend" for Teresa for the next season.
Meanwhile, Teresa claims she is devastated by the rift in her once close family - especially the absence of her brother from her life.
And is fame to blame?
She added: "We've never gone without speaking until we were on a reality show together.
"This is exactly what I didn't want. It's heartbreaking."
RELATED STORIES:
Melissa Gorga Confronted Over Her Alleged Sleazy Stripper Past!