Housewife Drama! Teresa Giudice Confronts Melissa Gorga About Alleged Stripper Past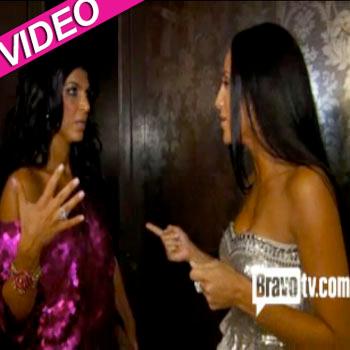 This is the moment that fans of The Real Housewives of New Jersey fans have been waiting to see: the first time Teresa Giudice confronts Melissa Gorga about her alleged stripper past.
RadarOnline.com has a sneak peak of the upcoming episode.
Last week viewers watched as a man confronted Gorga at Kim DePaola's Posche fashion show.
Earlier that day the mystery man – salon PR Angelo Vrohidis – told Giudice that her sister-in-law used to dance for him at a strip club.
Article continues below advertisement
In the upcoming episode Teresa confronts Melissa privately, saying: "Who was that guy who came up to our table? You know, the bald guy?"
A bemused Gorga says: "I don't know. He looks so familiar but I can't put my finger on it..."
Giudice says to her sister-in-law: "Feel my heart… You need to really feel it because it's coming out of my shirt."
Then she slowly admits that she met Vrohidis earlier that day, before blurting out: "He goes that you used to work for him at a gentlemen's club. And you used to dance for him."
The scene is crucial because it's the start of a bitter feud between Giudice, her brother Joe Gorga and his wife. The couple has reportedly not spoken to the mom-of-four in a year amid claims that Teresa set the stage for Melissa to be embarrassed.
As RadarOnline.com previously reported, Gorga accuses Giudice of being "vindictive and disgusting" and says that her actions were a "knife in the back."
The Real Housewives of New Jersey airs on Bravo Sunday 10/9c on Bravo.