Melissa Gorga Confronted Over Her Alleged Sleazy Stripper Past!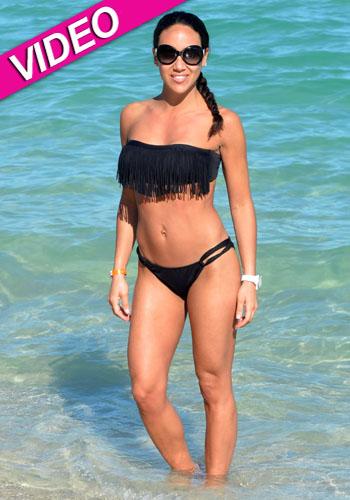 It's a storm that has been brewing since last year and now Real Housewives of New Jersey fans can see the moment Melissa Gorga is confronted over her alleged secret stripper past.
RadarOnline.com has a preview of the explosive new episode, which apparently is at the core of Teresa Giudice's yearlong estrangement from her brother Joe Gorga.
It all starts when Angelo Voorhees, a salon PR manager, approaches Kim DePaola and Teresa while they are getting their make-up done. Filmed back in September 2011, the ladies were getting glammed up to attend the fashion show for Kim D's boutique, Posche.
Article continues below advertisement
The ladies appear stunned when Angelo says: "I must say Teresa, it's actually a small world we live in.
"I know your sister-in-law Melissa. We go way back… She actually worked for me. At a little gentlemen's club in Elizabeth."
Asked what she did Voorhees says: "Well, she danced for me."
In another clip while the ladies of the RHONJ are gathered at the Posche event, he approaches Gorga and says: "Hi Melissa, you remember me right?"
Rumors of the incident were leaked last year. The Huffington Post quoted an unnamed source talking about the showdown.
The show's network insider reportedly said: "Bravo's surprise at the fashion show was for Melissa: her ex-boss at Lookers, the strip club she used to work at.
"No one knew him, no one knew he was coming…and Melissa ran away from him and refused to film with him."
At the time Gorga strongly denied the rumors. As RadarOnline.com previously reported, she wrote on her website: "This is 100% NOT TRUE."
Article continues below advertisement
Gorga says she was briefly a bartender at a bikini bar, adding: "My outfit was a tank top, shorts and sneakers. SORRY, no bubbies there."
Whether Gorga was or was not a stripper is no longer the issue. It has intensified the family feud amid claims that Giudice set her sister-in-law up to be ambushed.
According to the website AllAboutTRH.com, Joe stopped talking to Teresa because she allegedly told their father that Melissa was once a stripper.
Teresa Giudice Calls Caroline Manzo & Castmates 'Insane' In 'Alice In Wonderland' Inspired New Blog