New Jersey Housewives Teresa Giudice And Jacqueline Laurita In Nasty Twitter Feud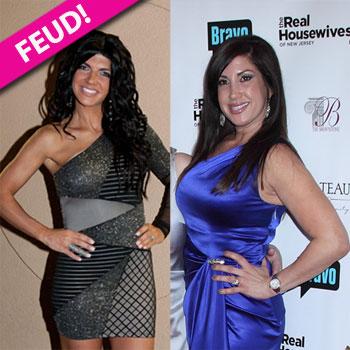 Brunette bombshell Jacqueline Laurita has launched a Twitter war with cast mate, Teresa Giudice, branding her 'scum' and RadarOnline.com has all the juicy details.
The reality star has been hinting for several days that she's walked away from the show and did not attend the taping of the season finale, but she's determined to go out with a bang and has taken to the social networking site to set a few things straight.
Article continues below advertisement
According to Laurita, the claims that fellow Housewife Melissa Gorga once worked as a stripper were started by Giudice, who is Gorga's own sister-in-law!
"Teresa told me that 'rumor' about Melissa when she first started the show," Laurita tweeted on Saturday. "She wanted her out then. She knew. She plotted it. She played dumb on camera and even defended Melissa."
She then wrote: "Teresa is scum!"
While Guidice hasn't responded yet, Gorga did deny the reports of stripping on her own website.
"We are filming season 4 so there is not too much I can confirm," she wrote. "But there is one thing that I would like to clarify …the accusation that I was once a dancer at a strip club. This is 100% NOT TRUE. I did bartend for a few weeks at a bikini bar while I was in college. My outfit was a tank top, shorts and sneakers. SORRY, no bubbies there."
Bravo has so far stayed silent on Laurita's future on the show but she is continuing to suggest she may be done with the reality show. Or maybe not.