Real Housewives Of New Jersey: Joe Gorga & Joe Giudice Clash Over Teresa's 'Issues'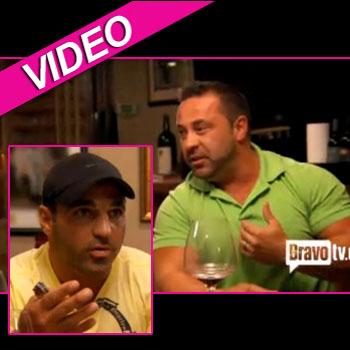 While Teresa Giudice and Melissa Gorga's battles have been well-documented, it was their husbands who tangled on Sunday's edition of The Real Housewives of New Jersey, and we've got all the details for you right here on RadarOnline.com.
The men -- who have seemingly absorbed all of the bad blood between their wives -- clashed as they discussed travel arrangements for an upcoming business trip to Napa, California. After (Joe) Giudice made a crack at (Joe) Gorga's expense, Teresa's brother tried to smooth things over.
Article continues below advertisement
Gorga explained to Guidice, "Listen, I'm trying to work it out with Teresa. I've decided to go to therapy... because obviously, Teresa, she's got some issues."
"I don't think she has any issues," Giudice snapped back, adding "it seems to me like she's been bending over backward to try to work things out with you."
Giudice said the main problem between he and Gorga, is that Gorga will constantly badmouth him to Teresa, whom runs back to him with all of the dirt.
"I'd rather you tell me, than you tell your sister," Giudice told Gorga, who replied, "If you ever had a problem with me, you should have talked to me," adding maybe Teresa's the problem.
Things got extra heated when Gorga accused Guidice of badmouthing him to his father (who is Joe's father-in-law).
"I guess obviously, you don't know your father is," Guidice said, adding whenever Gorga's name comes up, he tells him, "I don't wanna hear his f*cking name."
Article continues below advertisement
Another source of tension between the two turns out to be a tool set he claims Gorga borrowed from him and never returned.
"I had to go buy all new tools … I go by his garage, I see all the tools," Giudice said. "The bottom line is, whenever I borrowed something from someone, I give it back."
Watch the video on RadarOnline.com
We'll see if the bad blood makes its way up to Napa when the Real Housewives of New Jersey returns on Sunday at 10/9c on Bravo.