'Real Housewife' Melissa Gorga's Secret To A Successful Marriage: 'Have Sex Every Single Day'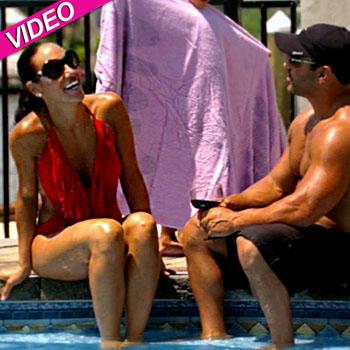 Sunday's edition of The Real Housewives of New Jersey took a closer look at the Gorga marriage, as Joe spent much of the time panting over his wife Melissa, who knows all of the right buttons to push when it comes to her husband.
"The key to a successful marriage," Melissa proclaimed, "is to have sex every single day."
Watch the video on RadarOnline.com
In one poolside instance, Joe confessed to his wife he was "having a moment" staring at her sexy red bathing suit, and couldn't move from the seated position he was in, lest he let everybody in on his secret.
Article continues below advertisement
Stunning Melissa said part of the key to keeping her marriage hot is the color red, as it drives her hubby into overdrive.
"That's his color, that's his thing and every time I put red on, he goes crazy!" the sly Melissa said.
"You don't understand what that color red does to me," Joe said.
Elsewhere Sunday, we got to see certain cast members of take the stage at Beatstock, an annual music and dance festival in which both Melissa and Teresa Giudice are performing at this year.
Melissa, who's been honing her routine at Fred Astaire Studio with choreographer -- and Jennifer Lopez ex -- Cris Judd, did well in her set at Beatstock, delivering a crisp -- albeit a tad auto-tuned -- pop performance.
She said of the gig, "I don't like to be cocky, but the dancers and I did an amazing job … I'm allowed to own it and be a diva."
Joe said he was proud of the way his wife's singing had come along, crediting an active sex life to making all the difference.