The Real Housewives Of NJ: Tabloid Diss Sparks New Tension Between Teresa Guidice & Melissa Gorga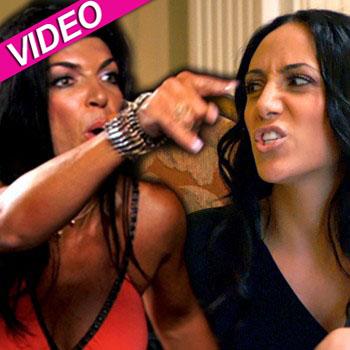 Even though she wasn't there, Teresa Giudice was the center of attention -- and none of it good -- at a beach party at Melissa Gorga's shore house on Sunday's episode of The Real Housewives of New Jersey.
The bad blood between Teresa and her sexy sister-in-law continued at the party, when Melissa and housewife Kathy Wakile read Teresa's quotes in a tabloid article in which she slammed her colleagues on the Bravo hit.
Article continues below advertisement
"Teresa has every right to put out whatever story she wants about her personal life," Kathy said, "but when it comes to saying things that are not true about me … I don't appreciate it -- I'm not a bully."
Said Melissa: "I get it -- you need to make money, so make your money -- but at the same time, you need to be loyal to your family."
Teresa's brother (and Melissa's hubby) Joe said that it seemed as if his sister was only interested in building walls around herself from her loved ones, and he didn't have a clue as to why.
Elsewhere, the Manzos, Giudices and Lauritas all headed to Chicago to see Caroline Manzo's brother Jaime and in his partner Rich in a civil union ceremony.
Caroline, in what might be her signature moment on the show, delivered a touching speech honoring her brother on his special day.
"Jaime's and Rich's story is all about minds: You've got broad minds that accept the truth and understand, and you've got narrow minds who only see the differences," Caroline said. "Love and peace, forever and always."