Teresa Giudice And Melissa Gorga Bury The Hatchet (For Now) To Watch Gia's Dance Performance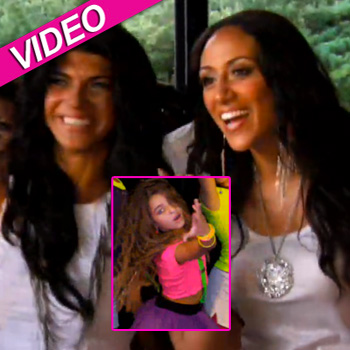 By Debbie Emery - RadarOnline.com Reporter
The claws are in for once on The Real Housewives of New Jersey as two of the stars manage to put their cat fight on hold, for one night at least, for the sake of their family!
Teresa Giudice and Melissa Gorga agreed to a temporary truce to support Teresa's daughter, Gia, as she performed at Beatstock, and RadarOnline.com has a sneak peek at her very colorful show.
"Seeing Gia perform makes me a very proud uncle," gushed tough guy-gone-soft Joe Gorga as he watched his little niece leap and somersault across the stage dressed in a bright neon tutu and cropped top at the open air concert.
Article continues below advertisement
"I will fight, bite, kill somebody for that girl," he vowed. "I love her."
For once, there was no fighting or biting on the show as the warring women declared a truce for the day.
Teresa looked equally as proud as her brother as she danced in the crowd with Melissa at the live music festival.
The pint-sized reality star isn't the only member of the family to join in the action on stage, as Aunt Melissa has recently been busy honing her own routine at the Fred Astaire Studio with choreographer -- and Jennifer Lopez's ex -- Cris Judd before showcasing her upcoming pop number.