Exclusive
Whoopi Goldberg Takes Sides In Teresa Giudice Vs Melissa Gorga Family Feud!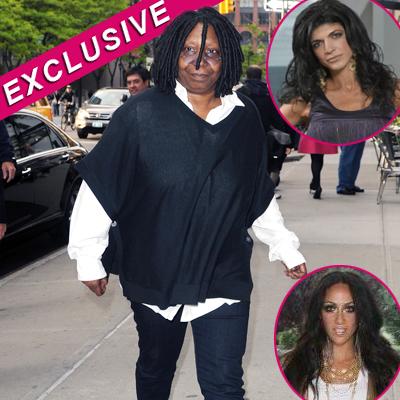 Real Housewives fans coast to coast have already decided whose side they are on when it comes to the bitter family feud between Teresa Giudice and her sister-in-law Melissa Gorga, and now, Whoopi Goldberg has weighed in too, RadarOnline.com is exclusively reporting.
The outspoken host has come down firmly on the side of Teresa after a fraught taping of Goldberg's hit show The View, which is set to air Friday on ABC.
Article continues below advertisement
"The show agreed to have them film separately and put Teresa on first which really upset Melissa, because she thought it was unfair. She wanted to go head to head with Teresa.
"Teresa discussed openly the issues she had to deal with when it comes to the other women on the cast and the way they have treated her. Whoopi was shocked by what Teresa told her about Melissa's behavior towards her in particular and in turn didn't want to return to the stage to listen to Melissa bad mouth Teresa."
Article continues below advertisement
And Whoopi wasn't the only one to take sides after hearing Teresa's tale of woe.
"Elizabeth sympathized with Teresa too about what she has endured, off camera during the break," the source says.
"Elizabeth asked Melissa if she joined the show by going behind Teresa's back and she got caught up in a lie."
You can watch the Housewives argue their case Friday on The View on ABC at 11/10c.
RELATED STORIES: