Better Late Than Never! Teresa Giudice Issues Groveling Apology To Castmates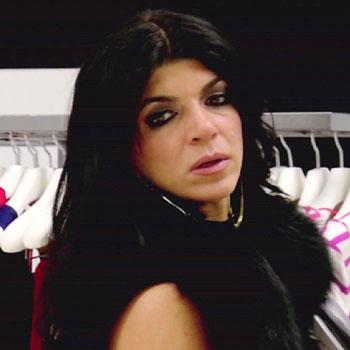 Teresa Giudice is finally taking some responsibility for her behavior and apologizing to her browbeaten New Jersey castmates — and in true reality star fashion, she's doing it in a weekly magazine!
The 39-year-old claims to have experienced somewhat of an epiphany after competing on Celebrity Apprentice recently and being "exposed to people with real problems."
In an interview with In Touch magazine Giudice says: " Things have gotten out of hand. I want to accept responsibility for the things I did wrong. I'm truly sorry."
Article continues below advertisement
She goes on to address Melissa Gorga, Caroline Manzo and Kathy Wakile individually, but focuses most of her groveling on Jacqueline Laurita.
"Dear Jacqueline, I wish we could have resolved things sooner because I'm sincerely sorry for upsetting you — and I'm sorry I didn't respond to your apology on Twitter," she says. "I feel like things have gotten out of hand, which is sad. I miss our friendship.
"I miss being like Lucy and Ethel with you. And so I hope we can work through these problems one day, when you are ready."
People are questioning the timing, and sincerity, of the apology though, especially as it comes hot on the heels of reports that castmates are looking to quit the popular Bravo show over their feuding with Giudice.
As RadarOnline.com previously reported, Jacqueline, Caroline and Melissa are all sick of the drama and backstabbing and prepared to walk away.
Article continues below advertisement
"Jacqueline is so sick of all the lies and the backstabbing that she wants out," an insider told Reality Weekly. "Caroline wants out too. She thought being on a reality show would be fun, but it's just been drama, lies, deception and scandal."
"There is now a lot of of fighting going on about money — who deserves the most and who doesn't," the source said. "Melissa wants more money because she feels like she doesn't get paid enough to deal with all the damage that's been done to her personal life."