Teresa Giudice & Melissa Gorga Battle On Real Housewives Of NJ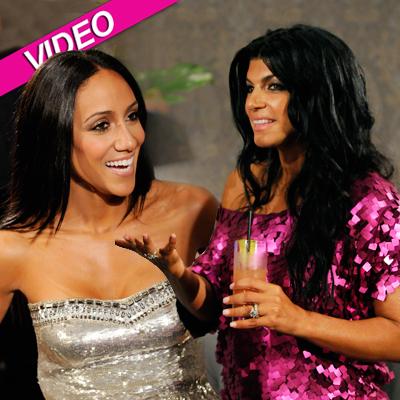 Tension remained high between Teresa Giudice and Melissa Gorga on The Real Housewives of New Jersey Sunday, and we've got all the details right here for you on RadarOnline.com.
The women have an ongoing feud over a comment Teresa made, claiming beautiful Melissa would leave her husband (who is Teresa's brother) for a richer man if one came along.
Prior to a boat trip, Teresa demanded no one mention any of her family's legal woes, including her husband Joe's stints in jail -- using the latter word the biggest no-no, according to Teresa.
Article continues below advertisement
(Housewife Kathy Wakile explained the delicate faux pax of the j-word in the Garden State: "In Jersey we say, 'Going away' instead of 'Going to prison' because it's old school. It's a matter of pride and trying to protect your family. It's a Jersey thing.")
Melissa's and Teresa's conflict came to a crescendo at a party held by housewife Jacqueline Laurita to celebrate the summer solstice. They tried to come to an accord, but one mention of the word "jail" from Melissa had Teresa storming out in a rage, leading to a spat in the parking lot.
As harsh words were exchanged, Melissa asked Teresa point blank if she wanted to wreck her marriage, to which she said she didn't.
Watch the video on RadarOnline.com
As Teresa left, Melissa catcalled her, "Run away coward, like you always do when you're wrong!"
An exasperated Melissa said chatting with Teresa was like speaking to a brick wall, a point the other housewives agreed with.
Said housewife Caroline Manzo, "For their own family security, Melissa and Joe may have to walk away."