Exclusive
Real Housewives Of New Jersey: No One Set Up Melissa Gorga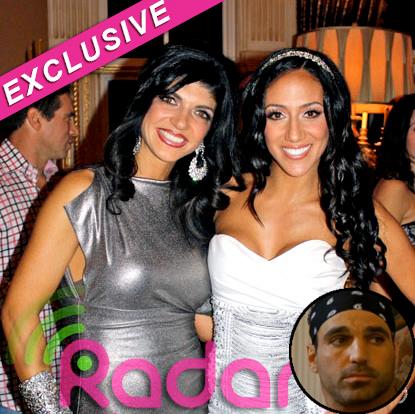 While Bravo cameras rolled, drama ensued for the cast of Real Housewives of New Jersey, but RadarOnline.com has learned it wasn't all as dramatic as they wanted it to seem — shocker!
Reports claim that Teresa Giudice was part of a scheme to have her sister-in-law's work history at a strip club exposed while a bunch of the housewives were attending the Posche Boutique fashion show last week.
Article continues below advertisement
The drama erupted when Angelo, manager of Lookers Gentlemen's Club, showed up to the event and it came out that Melissa Gorga had a brief stint working for him years ago — and all fingers were pointed at Teresa and frequent housewives face Kim Depaola when Angelo conveniently showed up.
But Kim's rep, Matt Martin, exclusively tells RadarOnline.com that neither of the women were involved in "setting Melissa up," and that Melissa's husband, Joe Gorga, unfairly attacked Kim D. and Teresa.
"Melissa called Joe and he came to the event and confronted Kim D. using profanity and aggressive behavior," Matt said.
"Kim D. and Teresa had no prior knowledge of Angelo being there and there were no negative intentions set forth by either party."
According to Matt, Angelo is an old childhood friend of the La Chateau Allure salon owner's husband, John Karagiorgis, who asked Angelo to attend the event.
Article continues below advertisement
"Angelo was asked to help promote the salon to his 'clientele' and met Kim D. and Teresa at the salon while they were getting their hair done," Matt said.
"Upon attending the event, as a paying guest, Angelo reacquainted himself with Melissa and they had a brief conversation."
As RadarOnline.com previously reported housewife Jacqueline Laurita launched a Twitter rampage against Teresa, blaming her for scheming to brand Melissa as a one-time stripper.
"Teresa told me that 'rumor' about Melissa when she first started the show," Jacqueline tweeted over the weekend. "She wanted her out then. She knew. She plotted it. She played dumb on camera and even defended Melissa."
EXCLUSIVE DOCUMENTS: See Pete & Sheila Giudice's Bankruptcy Filing
And fans of the hit Bravo show are crying foul play, because Angelo was apparently microphoned during the show, which makes it look like a set-up, but Matt tells RadarOnline.com that's not the case.