Melissa Gorga: Teresa Giudice Betrayed Me With 'Vindictive And Disgusting' Stripper Stunt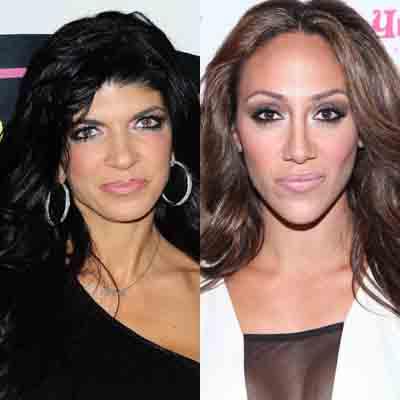 Reality stars Melissa Gorga and Teresa Giudice have had a well-documented rocky road, and it's about to get even rockier, as the 33-year-old Melissa proclaims her sister-in-law has "fooled her for the last time" after trying to expose a stripper past that she says didn't exist.
On The Real Housewives of New Jersey, Teresa and friend Kim DePaola confront Melissa with backup from Angelo Vrohdis, a former manager of the Elizabeth, New Jersey strip joint, Looker's Gentlemen Club.
Article continues below advertisement
The sexy Melissa, who bartended at the establishment in 2003, compared Teresa's "vindictive and disgusting" turn on her to "a knife in the back."
Melissa said she believes Teresa tried to make her look bad in a possible attempt to hurt her marriage, or simply soothe her own insecurities by spreading her misery around. She's "a sick individual," Melissa said of Teresa. "It's even sicker that she would put this on national TV."
Melissa said Teresa has a penchant to not take the heat for dust-ups she creates "because she never wants to be the once who looks bad."
Melissa said that while the show's finale was filmed last year, she was sickened watching the incident unfold again recently, adding that "it makes her skin crawl."
She added that Teresa's partners-in-crime in this incident -- DePaola and Vrohdis -- were planted to lend Teresa credibility. (Melissa says "no nudity" was on display at Looker's, "which was not even a strip club," as dancers wore bikinis and lap dances were not given at the venue.)
Article continues below advertisement
Melissa, who has three kids with Teresa's brother Joe (Antonia 7, Gino, 5, and Joey, 2), said she had hoped a second try at a friendship with Teresa would take, as she wants her kids and the Giudice children to bond.
Melissa said the falling-out has been especially difficult in her husband Joe, who's "so sick and tired of her bashing us."
Melissa said in the wake of the ambush, she and Joe brooded at home, brokenhearted: "I said, 'Did this really just happen? I was crying. His eyes teared up and he said, 'I don't know what's happened to Teresa."