New Mom Snooki Tweets About All-Nighter With Baby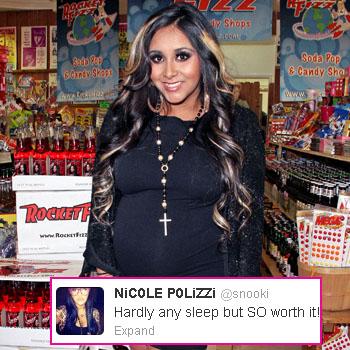 Snooki's spent many a long night with the bottle, but none quite this innocent.
The new mom tweeted early Monday about her first night with her baby boy, writing, "Hardly any sleep but SO worth it!"
She also wrote, "Im finally able to eat eggs again! While I was pregnant I couldn't even smell them! Now I'm killing it with egg whites!!! #YUM."
As we previously reported, the pint-sized media darling delivered her son Lorenzo Dominic LaValle (with fiancé Jionni Lavalle) Saturday.
Article continues below advertisement