Snooki's A Mom! Jersey Shore Star Gives Birth To Boy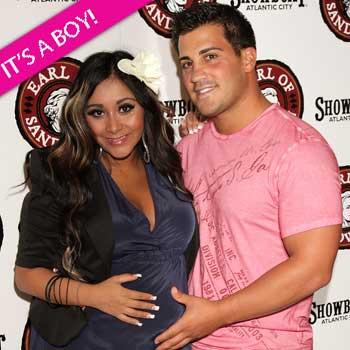 Snooki's a mom!
RadarOnline.com has confirmed that pintsized Jersey Shore star Nicole "Snooki" Polizzi has delivered her baby – a little boy named Lorenzo.
Snooki gave birth early Sunday morning at a New Jersey hospital and later tweeted: "I am SO IN LOVE with my son Lorenzo Dominic ! I had my little man last night, healthy at 6lbs! HE'S MY WORLD!"
A representative for Snooki said: "The world just got another Guido!!!"
Article continues below advertisement
And, MTV released a statement: "We couldn't be happier for Nicole and Jionni on the healthy delivery of their baby boy!
"We look forward to Lorenzo's first trip to the Jersey Shore and can't wait to see his first animal print onesie."
Rumors were flying Saturday on Twitter that Snooki was close to giving birth.
Tiffy Willy⚾ @Tiff_Mae_Wilson wrote: "Snooki is in labor y'all. My friends mom works at St. Barnabas in Livingston, NJ and Snooki is there having her baby lol"