Melissa Gorga: Teresa Giudice's 'Credibility Is Now Completely Gone'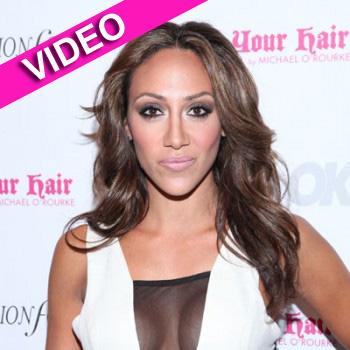 In a new Bravo blog, Melissa Gorga has harsh words for her sister-in-law Teresa Giudice, calling her out for stirring up trouble in both their family, as well as among the cast members of The Real Housewives of New Jersey.
Melissa said she's disgusted after hearing from castmate Caroline Manzo that Teresa is constantly bashing she and her husband Joe Gorga (who is Teresa's brother) to Joe's mother.
Article continues below advertisement
"This is nothing we didn't know already, but to hear about it is just sad," she said. "I think I understand why she lied and tried to poison everyone's minds against us, but why his own parents? It takes a person with a very, very small conscience to do that."
The sexy Melissa referenced a number of negative labels Teresa's tagged her with to others, including "a copycat, a stripper, gold digger and w**re.
"It is terrible to go around and try to ruin someone's character," Melissa wrote. "It's just not right. I'm not gonna lie, I really think it's disgusting and I wish she would stop...it's not fair to do these things and lie to all of us constantly."
Melissa said with recent revelations Teresa sold stories to a tabloid publication, Teresa's "credibility is now completely gone," along with her resolve to try and repair her or her husband's relationships with the Celebrity Apprentice star.