Sour Grapes Between Teresa Giudice, Caroline Manzo Ends Wine Country Trip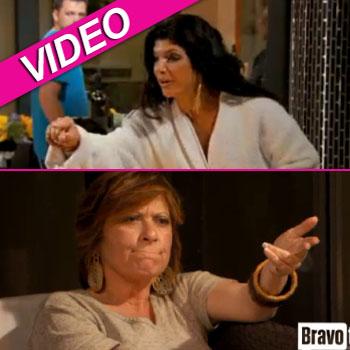 Article continues below advertisement
Teresa's cousin, Kathy Wakile, tried to mend fences between the warring women -- telling Teresa that Caroline "never did anything to hurt you" -- though Teresa was unmoved, insisting she's apologized enough for the cookbook caper.
After Kathy suggested time would heal the wounds between the two, Caroline told her, "I don't need time -- I see very clearly. I look at her Teresa and see ugly. I see an ugly human being."
When Teresa tried to interject, Caroline told her, "I can't even look at you … I'll have a conversation with somebody who tells the truth, and who admits what they've done."
Teresa told Caroline she loves her family, to which Caroline shot back, "You don't like me … you don't respect me … you say I'm cold.
"You wanna throw down, we're gonna throw down and I can get rid of you once and for all."
When Teresa repeatedly denied accusations she made a seven-cover deal with a tabloid magazine, Caroline called her a liar, fraud and disgrace.
Article continues below advertisement
"I don't know how to lie," Teresa claimed, to which an exasperated Caroline responded, "I'm arguing with a sociopath ... she doesn't give two sh*ts about anybody."
The drama circulated through the room, as the Manzo men seemed growingly irritated with Teresa's husband Joe Giudice and his aloof attitude toward his wife's continual slights of their family matriarch. In the end, however, Caroline's husband Albert kept his cool, wisely electing to "let the girls work it out."
Needless to say, Joe Giudice decided to prematurely end the wine country trip for he and his wife, which Teresa celebrated.
Caroline again called her a "sociopath," while her daughter Lauren called Teresa "such a piece of sh*t."
"I just think it's such a shame," castmate Melissa Gorga said of Teresa's ongoing problems with her castmates. "I really never thought it would get to this."
Following the show, both Caroline and Teresa appeared separately on Watch What Happens Live, and Caroline told Andy Cohen the two still don't get along.
Article continues below advertisement