Teresa Giudice Gets Physical With Cousin Kathy Wakile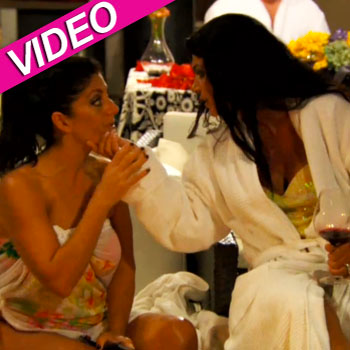 Blood might be thicker than water, but Teresa Giudice doesn't seem to care.
To punctuate a loud and intense verbal argument, Teresa placed her hands on her Real Housewives Of New Jersey castmate, and cousin, Kathy Wakile as seen in a preview for Sunday's episode of the Bravo hit.
And after having alienated most of her castmates on the show, it looks like Kathy might not be speaking to Teresa after this episode either.
Article continues below advertisement
"I'm telling the truth, I'm not kidding and you know I'm telling the truth, that's what I'm saying," the cookbook author said, prior to grabbing Kathy by the chin as if she was about to slap her.
"Don't put your hands on me Tre," a livid Kathy told her cousin as Caroline Manzo and Melissa Gorga looked on.
Kathy later said in an off-camera interview: "Really? Nobody's ever grabbed my face like that. You're gonna get burned Tre.