Teresa & Joe Giudice Get Frisky In A Vineyard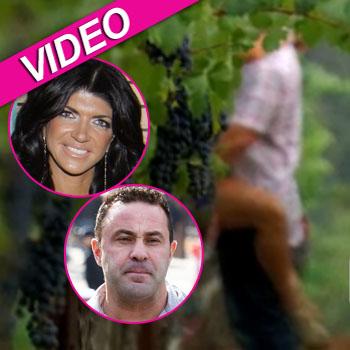 After a mystery phone call spurred cheating concerns, Teresa and Joe Giudice looked like a couple on the brink of disaster in previews for Sunday's episode of The Real Housewives Of New Jersey, but at least for the short haul, they decided to make love, not war.
As we previously reported, the gang was up in Napa, California's wine country when Joe took a phone call he claimed to be work-related, but answered saying, "Hi baby."
Article continues below advertisement
When Teresa, the mother of his four kids, investigated what he's doing, Joe told the caller, "Here comes my bitch wife...she's such a c***."
Joe told Teresa the caller was a co-worker who didn't speak English, and the flimsy excuse seemed to work, as a hot-and-bothered Teresa tried to seduce her husband in a vineyard with their castmates feet away, getting ready for an outdoor meal, a birthday dinner for Caroline Manzo.
Watch the video on RadarOnline.com
"Let's do something," Teresa whispered to her macho hubby, who resisted, telling the mother of his four children, "I ain't doing s*** out here...I ain't doing it...f*** you, let's go...what are you, a f**ing w****?"
Insatiable Teresa would not quit, however, and eventually her aggressive advances got the better of Joe.
Of course, the spontaneous fling caught the attention of the rest of the cast -- "I see her lifting her dress up!" bellowed a voyeuristic Melissa Gorga -- and some, such as Teresa's ex-pal Jacqueline Laurita, figured Teresa's very public display of affection was a transparent ruse for attention.
Article continues below advertisement
"Knowing Teresa, that makes sense cause Caroline was the focus and Caroline was getting the attention, and Teresa needed some of the attention on herself, so why not have sex in the grapes?" she reasoned.
Said an exasperated Caroline, ignoring the obvious: "You know what? Eat."
The Real Housewives of New Jersey airs Sundays on Bravo at 10/9c.
RELATED STORIES:
TMI Overload! Kathy Wakile Gets Hot And Heavy In RV, Says Sex Once A Day Isn't Enough