Joe Giudice's 'Mystery Call' Adds To Marriage Crisis Rumors, Trashes Teresa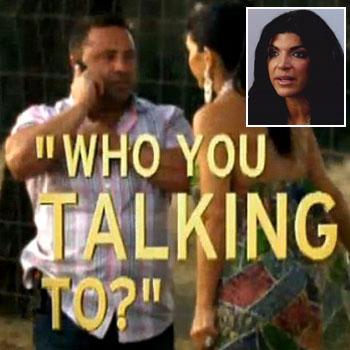 Oh no he didn't!
Joe and Teresa Giudice's marriage seems to be in crisis on an upcoming edition of The Real Housewives of New Jersey, as the macho Garden State native calls his better half a "b*tch" and a "c***" during a mysterious cell phone call.
In the episode, Joe takes a phone call he claims to be work-related, but answers the phone with a very unprofessional, "Hi baby," a source tells the Huffington Post.
Article continues below advertisement
When Teresa goes to investigate what her hubby is up to, he tells the caller, "Here comes my b*tch wife… she's such a c***."
Asked who he was talking to, the embattled Joe said it was a co-worker who didn't speak English.
Last month, castmate Caroline Manzo predicted the tumultuous marriage wouldn't survive.
"Teresa wants it all, and I think that the demands she put on him led him to make decisions that weren't the best. And I think he resents her for it, and he's going to pay the ultimate price for it," Manzo said, making veiled references to Joe's legal woes. "Prediction: Something may happen where someone has to go somewhere. Teresa's going to have to pull herself up on her bootstraps and take over.
"She'll say, 'You know what, I tried. I stood by him, but I have to divorce him now. And I'm gonna show my daughters what it's like to be strong and independent on your own and survive.'"
As RadarOnline.com previously reported, the Giudice family's ups-and-downs have provided endless content in the Bravo hit's fourth season, as Teresa's unorthodox parenting techniques, and feuds with her brother Joe Gorga and castmates have made for must-see reality TV.