Joe Giudice Will Stand Trial For Fraud, Faces 10 Years In Jail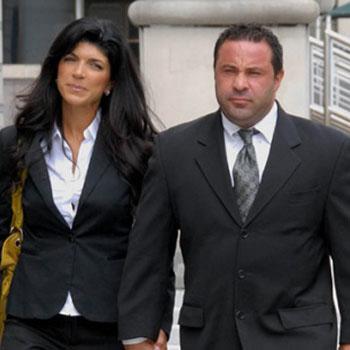 By Jon Boon - Radar Reporter
The husband of Real Housewives of New Jersey star Teresa Giudice will have to stand trial for fraudulently obtaining a phony driver's license, RadarOnline.com has learned.
In a court hearing Monday, Joe Giudice rejected a plea deal after he was accused of using his brother's identification to get a new license while his own was suspended due to a DUI.
The state's plea offer of five years in state prison was turned down by Giudice's attorney, Miles Feinstein during the brief hearing in Superior Court in Paterson, NJ.
Article continues below advertisement
A judge then set a date of October 1 for Giudice to return to court to set the trial date.
According to the authorities, Giudice, 42, used marriage and birth certificates that belong to his brother Pietro to obtain the fake license.
His own license was suspended for Driving While Intoxicated after he flipped his pick-up truck while driving in Montville in January 2010.
The investigation began when Pietro, 39, was pulled over by Lincoln Park Police. When his license was checked by computer the search provided apicture of Joe instead. Joe was charged on one count of second-degree wrongful identity and one count of fourth-degree impersonation.
In New Jersey, the law states that getting a driver's license by fraudulent means is punishable by up to 10 years in prison.
Giudice is seeking probation based on the fact he has no prior criminal convictions.
And the problems seem to keep on mounting for Joe. As Radaronline.com previously reported, his RHONJ co-star Caroline Manzo predicted that he and his beloved are headed for divorce!
"Teresa wants it all, and I think that the demands she put on him led him to make decisions that weren't the best. And I think he resents her for it, and he's going to pay the ultimate price for it," Caroline revealed during a recent episode.
Article continues below advertisement
"Prediction: Something may happen where someone has to go somewhere. Teresa's going to have to pull herself up on her bootstraps and take over. She'll say, 'You know what, I tried. I stood by him, but I have to divorce him now. And I'm gonna show my daughters what it's like to be strong and independent on your own and survive.'"
RELATED STORIES:
Feuding 'Real Housewives' Teresa Giudice & Melissa Gorga Have 'Breakthrough Moment'