Feuding 'Real Housewives' Teresa Giudice & Melissa Gorga Have 'Breakthrough Moment'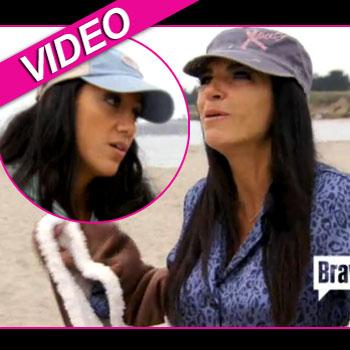 Teresa Giudice and Melissa Gorga put aside their hostilities toward one another, having a heart-to-heart chat the latter described as a "breakthrough moment" on Sunday's edition of The Real Housewives of New Jersey, and we've got the details for you right here on RadarOnline.com.
The Manzos, Gorgas, Giudices and Wakiles embarked on a trip from the Garden State to Napa, California. After the cast set up shop camping, a calmer-than-usual Teresa cleared the air with (hot-and-bothered) castmate Kathy Wakile about some issue they'd had, setting up the stage for the unlikely reconciliation between she and Melissa in a chat alongside the California coast.
Article continues below advertisement
Melissa delicately explained to Teresa -- who's feuded with her castmates all season -- she might need to take a new approach to her way of dealing with interpersonal relationships.
"You need to sit back and say, 'What am I doing wrong?" Melissa advised Teresa. "Why am I having an issue with everyone? Maybe it's me? Maybe I'm doing something wrong?'"
Teresa told her in response, "If you have a problem, say it to the person and be done with it -- don't hold grudges -- I don't hold grudges."
Whoopi Goldberg Takes Sides In Teresa Giudice Vs Melissa Gorga Family Feud!
Jacqueline Laurita Slams Teresa Giudice: 'She's Not Someone I Want In My Life'
Another RHONJ Feud! Dina Manzo 'Blindsided' By Teresa Giudice