Teresa Giudice Visits Bankruptcy Lawyer, Has Blow-Up With Caroline Manzo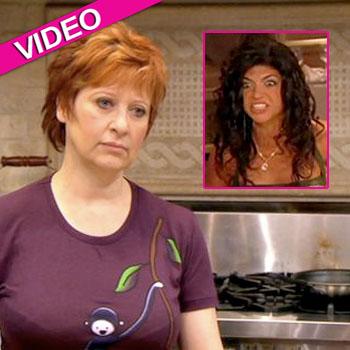 Teresa Giudice is well-known for two things -- fighting with her fellow housewives and money problems -- and both were on display on Sunday's edition of The Real Housewives of New Jersey, and we've got all the details for you right here on RadarOnline.com.
"In bankruptcy, you are able to start your life again -- and that's exactly what I'm doing. Just because you do bankruptcy doesn't mean you have to crawl and die in a hole," Teresa said. "Am I terrified of being poor? I don't think I'll ever be poor. Because I am a hard worker and my husband's a hard worker."
Article continues below advertisement
In a meeting with their bankruptcy attorney, James Kridel, Teresa denied any wrongdoing.
"I'll do whatever it takes to defend myself -- I don't have any skeletons in my closet -- like I always say, the truth shall set me free," Teresa said, adding the adversity revealed to her, "who my true friends are."
Joe added: "The good thing is we're moving forward now -- I don't even want to think about the past. To me, it's never even happened."
"Just move forward," Joe said. "It's pretty much a headache."
As we previously reported, the reality stars faced accusations of bankruptcy fraud, though as fate would have it, Joe later wound up invoking the Fifth Amendment to protect himself against self-incrimination and walked away from the bankruptcy filing.
Later on in the episode, Teresa and castmate Caroline Manzo got into a heated exchange over rumors Teresa was selling negative stories about her fellow Housewives to the tabloids; and more personally, a dig Teresa took at Caroline's son in her cookbook.
MORE ON:
hollywood happenings
Article continues below advertisement
"You talked about my son: Why didn't you mention what you wrote? You are lying to my face! You're crazy," Caroline said. "The way you treat me and the way you disrespect our friendship, to me, there is no more friendship."
"You know I adore your family!" Teresa told Caroline, adding she was sad her friend had turned on her.
It didn't end there: Jacqueline Laurita, fed up with the tabloid rumors and non-stop fighting, told Teresa "For my health, I'm going to distance myself from you and your family."
Toward the end of the show, a beleaguered Teresa said, "I try to see the good in everyone, but now I know to keep my guard up, because there are evil people out there, and sometimes they come in the shape of your friends."
Watch the video on RadarOnline.com
The Real Housewives of New Jersey airs on Bravo Sundays at 10/9c; Teresa's new cookbook Fabulicious! Fast & Fit is in stores now.
RELATED STORIES: