Joe Giudice Abandons Bankruptcy Filing; Evokes Fifth Amendment To Protect Against Self-Incrimination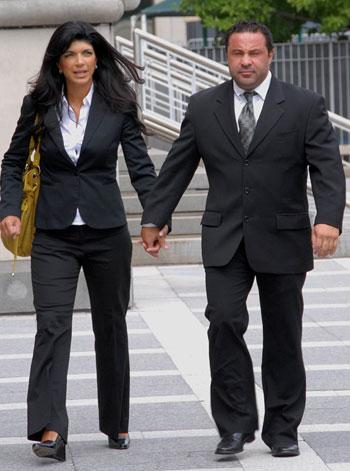 Real Housewives of New Jersey star Joe Giudice did an abrupt about turn in court Monday and abandoned his request to have his millions of dollars of debts forgiven in federal bankruptcy court.
The reality star made his surprise decision after choosing to invoke the Fifth Amendment to protect himself against self-incrimination during some heated questioning by his creditors' trustee regarding income and assets he is accused of hiding from the court.
Article continues below advertisement
According to court papers obtained by The Star-Ledger: "The defendant Giuseppe Giudice acknowledges his desire to resolve the matter without the need for further inquiry or litigation, and without making any further admissions."
As a rule of thumb, if it is discovered that a debtor is hiding assets or income a criminal referral is made to the U.S. Attorney's Office and the bankruptcy fraud unit of the U.S. Trustee Program, which could result in criminal charges.
Joe's wife Teresa Giudice, is still pursuing the bankruptcy option in a bid to discharge her considerable debts, however the trustee is opposing her filing
As RadarOnline.com previously reported, Roberta A. DeAngelis, the U.S. Trustee overseeing the Giudice bankruptcy petition, filed a Complaint Objecting To Discharge last year. DeAngelis requested Judge Morris Stern not to grant the couple's Chapter 7 bankruptcy petition because of the many "falsehoods" and omissions in their filing.
Article continues below advertisement
In the Complaint, DeAngelis accused the couple of filing schedules and statements they knew were "not true and correct," making numerous false oaths, making "false sworn testimony," and not disclosing numerous substantial assets.
The Complaint even accused the couple of presenting false income tax returns to the bankruptcy court. The Complaint took special note of the fact that Teresa signed a contract for $250,000 for her book "Skinny Italian" just one week before filing for bankruptcy but didn't include that deal among her assets.
They also didn't disclose, according to the Complaint: "Defendant husband's bank account, two pieces of real property, the Defendants' vehicles....."
And it seems money mismanagement woes run in the family. As RadarOnline.com previously reported, Joe's brother Pete Giudice and his wife filed Chapter 7 with the United States Bankruptcy Court in New Jersey on June 29, 2010.
EXCLUSIVE DOCUMENTS: See Pete & Sheila Giudice's Bankruptcy Filing
Article continues below advertisement