Exclusive
Real Housewives Stars Slam Store For 'Not Being Grateful For Who They Are'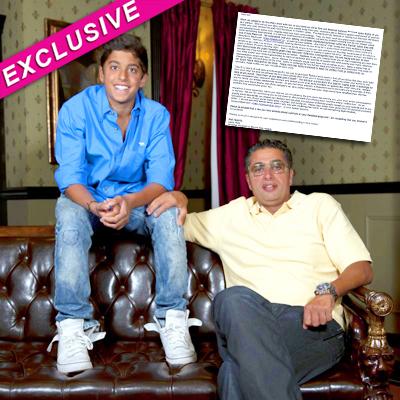 By Alexis Tereszcuk - RadarOnline.com Senior Reporter
Celebrities get a lot of free stuff, but what about when it's just not enough?
RadarOnline.com has exclusively learned that the newest cast members of The Real Housewives of New Jersey are throwing their weight around to get free swag, and burning bridges along the way.
Richard Wakile, who is married to Kathy, the cousin of Teresa Giudice, and his son Joseph reached out to a store called Something Sophisticated in Franklin Lakes, New Jersey to do a photo shoot in exchange for free shirts.
Article continues below advertisement
EXCLUSIVE DOCUMENT: Read The Email
However, things turned unpleasant when the store owner only gifted them two free shirts each. The Wakiles' personal assistant hit the roof and emailed the store owners on behalf of their clients — claiming it was in "bad taste and disrespectful not only to give both Richard and Joseph a limit of two items that they could take from your shop but also not allowed them to take clothes other than your in house brand."
Ed Bergan and Bijan Zamanian told RadarOnline.com that they were stunned when their generosity was thrown back in their face.
"They reached out to us, checked out our store, thought it would be mutually beneficial, so they called us, we set up the time, we hired a photographer, bought champagne and food. As far as we were concerned it went great," Ed said about the July 14 shoot.
Celebrity photographer Tom Murro first alerted RadarOnline.com to the story.
Article continues below advertisement
"We did the shoot at 11 and got the email about 6:30 Friday night. It wasn't until afterwards that we heard that they weren't appreciative at all," Bijan said.
In the email, Leslie, the personal assistant to Mr. and Mrs. Wakile, slammed Bergan and Zamanian writing: "Two shirts at a price point of a total for maybe $100 in exchange for all that associated your shop with both Richard and Joseph is not at all being thankful nor grateful for whom they are."
Bijan said other cast members, like Chris and Albie Manzo wear shirts from the store and they've never had a problem with them.
"Distractions like this don't help us become successful. We try to put our best foot forward and we tried to be extra generous and overcompensate," Bijan told RadarOnline.com. "We work with other people from the show who all do our photo shoots. The Manzos have been supporters from day one. They are great guys. I don't want the show to get a bad rap."