Exclusive
Real Housewife Countess LuAnn Duets With Natalie Cole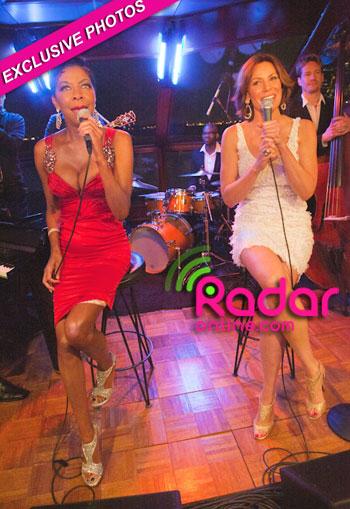 Reality TV royalty has collided with music royalty — and the explosive effects have been caught on camera!
Real Housewives of New York star Countess LuAnn de Lesseps was joined recently for an impromptu duet by none other than Natalie Cole, and the unlikely duo tackled Nat King Cole's classic L-O-V-E.
LuAnn had arranged for Natalie to surprise her boyfriend Jacques Azoulay, for their anniversary, and it turns out Jacques wasn't the only one surprised when Natalie took to the mike with LuAnn!
Article continues below advertisement
"It was an out of body experience," LuAnn gushed. "I still can't believe I sang with Natalie Cole! Natalie is a doll, so easy to work with, so generous and just a down to earth gal – I love her!"
And it seems that the admiration is mutual -- a source tells RadarOnline.com that Natalie jumped at the chance to appear on Real Housewives and that she is a huge fan of LuAnn's and that she loved the Countess' first single Money Can't Buy You Class.