NJ Housewife Teresa Giudice Speaks Out On Touchy Family Feud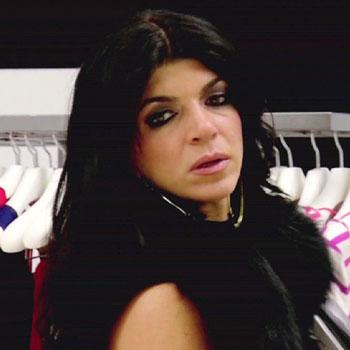 The Real Housewives of New Jersey's Teresa Giudice characteristically was on the offense in her appearance on KTLA-TV's morning show in L.A. Thursday to open up about her ongoing war with brother Joe and his wife Melissa Gorga.
As we previously reported, Teresa's tension with both have made for the Bravo hit's linchpin storyline this season, bringing viewers the most family infighting in the Garden State we've seen since The Sopranos.
Article continues below advertisement
But it wasn't by design, the controversial reality star said, emphasizing she was cast on the program under the impression it'd be alongside "friends and strangers" -- not loved ones.
"I didn't sign up on the show to be with my family," she said. "My family came on the show behind my back."
Teresa said one of her Bravo bosses called her and told her Melissa and Joe would be the newest cast members, which struck her as odd as they never mentioned anything to her leading up to the surprise signing.
"Can you imagine getting a phone call like that?" Teresa said. "It was sad."
Asked if things will ever be the same again with her brother Joe, Teresa made it sound like blood is indeed thicker than water.
"He's family -- he's my brother," she said.
On her segment, Teresa promoted her new cookbook, Fabulicious! Fast & Fit.
"I have four daughters, I like cooking for them," she said, adding her family enjoys making their own sauce, sausages and wine.
The Real Housewives of New Jersey airs on Bravo Sundays at 10/9c; Fabulicious! Fast & Fit is in stores now.
Watch Teresa's interview on KTLA 5 here.
RELATED STORIES:
Teresa Giudice Furious At Jacqueline Laurita's 'Vicious Attack' Against Her Daughter
NJ Housewife Jacqueline Laurita Slams Teresa Giudice's Parenting Style
Joe Giudice Threatens To Leave Teresa: 'I'll Leave You As Well, I Swear On My Kids'
Joe Giudice Tells Wife Teresa, 'Listen And Shut Up' On RHNJ