Family Feud Gets A Whole Lot Nastier: Teresea Giudice & Melissa Gorga's Fight Night!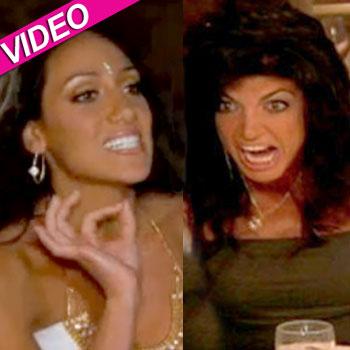 Real Housewives of New Jersey stars Teresa Giudice and her sister-in-law Melissa Gorga finally have their long-awaited showdown, and RadarOnline.com has video of the explosive result.
The women have just left a costume party when we join them…they both have Indian-style bindis on their foreheads, and the argument is already in full flow.
We don't get to see who started it, but Melissa tells her sister-in-law to stop meddling in her marriage, and Teresa tells her to tell her husband to do the same.
Article continues below advertisement
Soon Teresa brings up Melissa's latest injury to her. Melissa dropped off birthday presents for Teresa's girls at the preschool they attend instead of bringing them to her house.
But Melissa volleys back, and tells Teresa that at least she bought presents for her nieces and reminds her sister-in-law that it was her son Joey's birthday three months ago and he hasn't gotten a gift yet.
Uncharacteristically, Teresa is momentarily lost for words, but eventually responds: "Why are you so worried about gifts?"
"You never had a party, you never gave me cake," she continues, "of course I want to give my nephew a gift."
Teresa tells Melissa that talking to her is like talking to a wall - she even walks over and knocks on the building's exterior to illustrate the point, then turns to leave.
"Run away coward, like you always do," Melissa screams after her.
Teresa spins around and gets into Melissa's face shouting, "Excuse me? Excuse me?"
Article continues below advertisement