Teresa Giudice 'Blew The Whistle' On Melissa Gorga's Stripper Past, Claims Former Boss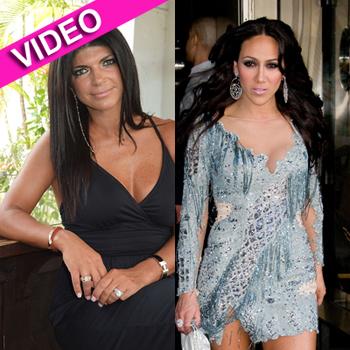 Mama mia! All the drama came to a breaking point in the Season 4 finale of The Real Housewives of New Jersey, and RadarOnline.com has the play-by-play, or more appropriately, the blow-by-blow.
The man claiming Melissa Gorga used to dance for him at Lookers Gentlemen's Club revealed that it was Teresa Giudice and Kim D who helped him set up the embarrassing meeting at the Posche fashion show.
Article continues below advertisement
Angelo Vrohidis bragged that Teresa knew about Melissa's stripper past and that he appeared on the hit Bravo show because "Kim and Teresa want to blow the whistle on her."
"They had me do this thing, ya know...'Melissa! Wow, I almost didn't recognize you. You look fabulous!'" he said.
During the encounter at the fashion show Melissa claimed she couldn't remember where she knew Angelo from, so Teresa cornered her in the bathroom wanting to know the truth -- even though Angelo claims she was in on it.
"He goes that you used to work for him at a gentlemen's club, and you used to dance for him," Teresa said.
"I did nothing wrong. I'm not ashamed of it," Melissa said, admitting she bartended for Angelo for a week. "Technically it's not a strip club, it's a bikini bar."
Upset, Melissa called her husband Joe Gorga to let him know what was happening.
Joe showed up ready to fight Angelo, who had mysteriously disappeared. But Melissa had enough, and let Teresa know that she was on to her.
Article continues below advertisement
Melissa Gorga Tweets About Release Of New Song
"They had this whole conversation with this guy saying, 'I'm gonna embarrass her tonight' and you were there," Jacqueline claimed, referring to the text messages she had received.
"Obviously there's someone trying to set me up, and maybe you're involved!" Teresa snapped back.
As Melissa and Joe were driving away, Melissa egged him on, urging Joe to yell out the window to his sister.
Article continues below advertisement
Melissa Gorga: Teresa Giudice's 'Credibility Is Now Completely Gone'
"Yell out the window 'Shame on you!' to your sister. Just do it."
Teresa then approached the car and tried to defend herself, but her brother and Melissa drove off in disgust. Teresa then went back into the party convinced that Jacqueline was trying to set her up and destroy her family.
"It just blows my frickin' mind how Jacqueline works. Chris has told my husband that he met Jacqueline as a stripper, so maybe she got involved because she has some guilty conscience with the whole stripper past," Teresa touted.