Jacqueline Laurita Calls Teresa Giudice 'Scum' & 'Disgusting,' Ends Friendship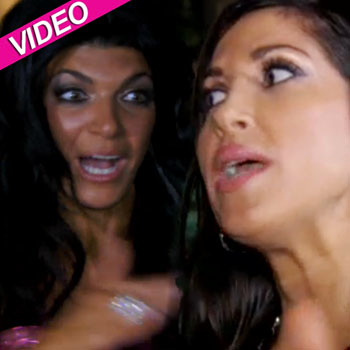 Article continues below advertisement
Teresa was immediately fingered as the one who set up the embarrassing situation for Melissa and confronted Jacqueline for instigating it.
"Did you just tell her that I sold her out?" Teresa asks Jacqueline.
"I had a friend texting me the whole conversation that that guy said that he was going to embarrass her, and he was purposely setting her up," Jacqueline says.
"What guy?" Teresa asks, playing dumb.
"The guy that said that about her," Jacqueline says, referring to Angelo.
"Okay, I never met this guy in my entire life," Teresa says.
But Jacqueline doesn't back down. "He said he did and you saw him in the salon today or something?"
"Yeah, that's the first time I ever saw the guy! So why did you go tell my sister-in-law I set her up when I had nothing to do with it whatsoever?" Teresa screams. "Like, you're trying to help, but you just caused problems."
Article continues below advertisement
"I said she'd been set up… I tried to help? All I know is I've been helping you the whole time and my friend text me and told me…" Jacqueline trails off.
"What friend?" Teresa demands.
Jacqueline refuses. "I'm not gonna sell her out. But they had this whole conversation of the guy saying, 'I'm going to embarrass her tonight,' and you were there."
"No. Swear to God on my kids he never said he was going to embarrass her. Ever, ever, ever," Teresa says and then before you know it, turns the tables on Jacqueline trying to blame her. "So obviously there's somebody trying to set me up and maybe you're involved!"
The Real Housewives of New Jersey matriarch Caroline Manzo says that's when the lightbulb went off and Jacqueline had her "ah-ha" moment.
"Jacqueline finally has her 'ah-ha' moment. She's looking Teresa square in the eye, and Teresa's saying, 'Maybe you did this Jacqueline. It wasn't me,'" Caroline says.
"With her audience around her, pointing the finger at Jacqueline in the most evil of ways. There's no denying who this person is now, is there?"
Article continues below advertisement
And Jacqueline doesn't hold back, telling the Bravo cameras that her friendship with Teresa is over.
"Why the f**k would I set up your sister-in-law, who I happen to like? Who has the motives here? You. You don't like your sister-in-law. Now I know we're not friends because how dare you try to turn that around on me?" Jacqueline fumes.
"How dare you? You're disgusting. You're scum. I am completely done."