Teresa Giudice's Castmates Sickened By Her Antics Toward Melissa Gorga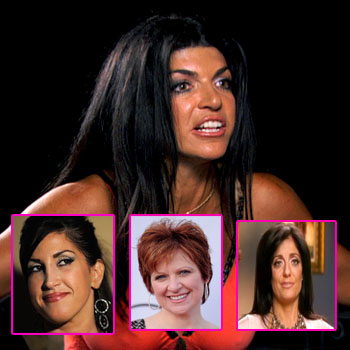 Article continues below advertisement
Wakile, pledging to "remove her emotions from the mix," speculated Teresa ambushed Melissa with the information in an attempt "to destroy Melissa's reputation, embarrass her, and ultimately try to destroy a happy family of five."
Laurita, whose own animosity with Teresa has been one of the season's ongoing storylines, posted a detailed blog in which she claimed the entire scenario was an orchestrated set-up not a random occurrence of events as Teresa would have one believe.
"Teresa talked obsessively about Melissa for the past two seasons, and it was NEVER good," Jacqueline wrote. "Teresa would fake nice only for the viewers, to make them think she was trying to get along with her family. She wasn't.
"I think she was pleased with what came out."
Jacqueline writes that Teresa has a history on turning on her own flesh and blood, saying her castmate "was doing things all season to sabotage her family in many ways, including business opportunities … Teresa had something nasty to say about everything."
Article continues below advertisement
Jacqueline pointed out that with the stripper scandal, "it seemed as though Teresa tried to argue Melissa's point about the rumors while seemingly trying to put it out there even more by keeping the conversation going" adding the taboo subject is "what Teresa wanted out about Melissa all season."
At the heart of the sadistic scheme, Jacqueline writes, is that "Teresa never forgave her family for coming on the show.
"She HATED that fans were starting to like Melissa and that Melissa was treating her so nicely on camera," Jacqueline writes. "She thought Melissa was being fake (only because TERESA is fake herself, so she believes everyone else is). Teresa wanted to bring out something to make Melissa look bad so fans wouldn't continue to like her."
Meanwhile, Manzo kept her message short and sweet: "So there you have it folks... The moment you've all been waiting for. Ugly, don't you think? What is there to say as you watch a friendship disintegrate and a family destroyed? I got nothing..."
Article continues below advertisement