Teresa Giudice 'Humiliated' Over C-Word Bomb, Says 'If Joe's Cheating, I Will Totally Leave Him'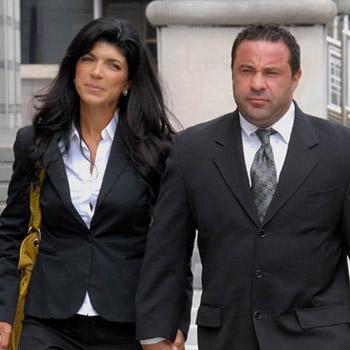 Teresa Giudice said she felt "kicked in the stomach" and "humiliated" watching an advance screening of this week's edition of The Real Housewives of New Jersey, as the episode shows her husband Joe calling her a "bitch" and a "c***."
As we previously reported, in the episode, Joe takes a phone call he claims to be work-related, but answers saying, "Hi baby;" when Teresa investigates what he's doing, Joe tells the caller, "Here comes my bitch wife … she's such a c***." (He later told Teresa the caller was a co-worker who didn't speak English.)
Article continues below advertisement
"I am not stupid," Teresa says in reference to the obvious cheating suspicions that arose with Joe's hostile secrecy on the call. If it turns out Joe is cheating, Teresa says, "I will not be with him. I will totally leave him.
"I can't defend him on this," the controversial Real Housewives star said. "I'm hurt and disappointed by him."
When they returned to the Garden State, Teresa said she told Joe, "You never speak to me like that at home, why would you say those things on national TV? He was so ashamed and embarrassed. He was like, 'I can't believe I ever said that.'"
Teresa, who has four young daughters with Joe, told InTouch that "any guy who comes around is never going to speak to my daughters that way."
Despite the harsh words, Teresa again was slightly making excuses for her troubled hubby's behavior, saying that "he has a black cloud over him.
"We'll get past this," she said. "We'll have to."
The episode airs Sunday on Bravo at 10/9c.
RELATED STORIES: