Teresa Giudice Tears Into Caroline Manzo Over Her 'Rolls Of Fat & Blubber'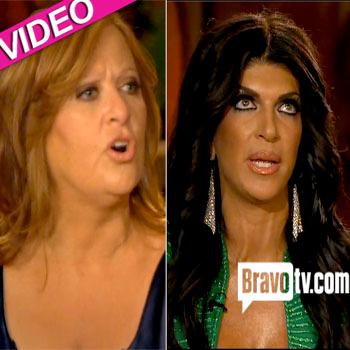 Article continues below advertisement
The episode, the first of a three part special, airs on Bravo on September 30 and it is Caroline who garners the majority of Teresa's wrath.
Tensions are fraught between the Housewives because Teresa has been accused of trying to set up her sister-in-law Melissa Gorga by revealing her alleged past as a stripper. However Teresa denies this and insists she had no part of "Strippergate."
The conversation starts fairly calmly with Teresa conceding that Caroline is a good mother, but then implying her kids are lazy because they don't work.
Caroline lashes back with: "You are a fool. Look at my face, I'm going to educate you."
"Look at yourself, you have three rolls," Teresa fires back. "Blubber, blubber, blubber. And with your tummy tuck. You couldn't walk for four months because you were hunched over."
Caroline furiously replies: "You know what? I f**king wear them proud! I have no Botox, I have no fillers, I've never had a facelift."
Article continues below advertisement
"You should get some, you should look at yourself," Teresa blasts back. "You're on TV, you really need some."
Then Lauren Manzo butts in with: "You realize that what you're saying is the reason people kill themselves? Because of d**k heads like you."
The argument apparently started because Caroline made fun of Teresa's green dress, saying she looked like a "Christmas pageant."
So time hasn't healed any wounds then for these ladies!