Teresa Giudice Threatening To Sue Melissa Gorga For Allegedly Attacking Her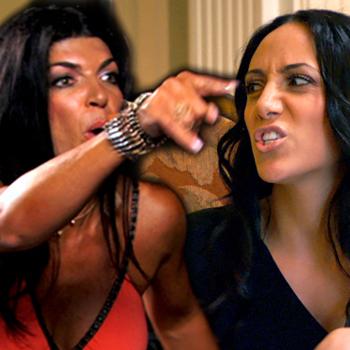 The most hated Housewife on TV, Teresa Giudice, is threatening to sue her sister-in-law, Melissa Gorga, for allegedly assaulting her, RadarOnline.com is reporting.
But Melissa Gorga is claiming that Teresa actually assaulted HER at a kid's birthday party while she was holding her baby son.
Teresa has said that it's a "vicious lie" though and in fact, it was Melissa who went for her.
"I usually don't comment on stories about me, but I cannot ignore Melissa Marco's vicious lie that I assaulted her at my own children's birthday party while she was holding my baby nephew," Giudice told the Huffington Post.
Article continues below advertisement
"It is completely untrue in every way. To make such a horrible accusation that involves our children is beyond despicable and speaks to her true character."
The show's reunion episode airs on September 30 and fans will be able to see just how bad relations have become between the Housewives.
"Melissa lost it at the reunion and put her hands on Teresa," a Bravo insider revealed. "Teresa started yelling that she was going to 'sue' Melissa, but has not taken any legal action yet."
A friend of Teresa's has also spoken out about what allegedly really happened. They said: "This attack supposedly happened at Gia and Milania's very big, very public joint birthday party in January.
"The party was at Space Odyssey, owned by Elvira Grau, who was with Teresa the entire time. Elvira has publicly tweeted that it's untrue.
"It was a very public party with a hired photographer there. No one saw them do anything but talk. They didn't even hug because Melissa was holding her baby, so Teresa just kissed the baby.