Anderson Cooper Apologizes To Teresa Giudice: She Admits Fame Tore Her Family Apart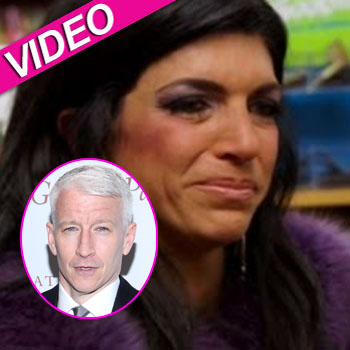 Anderson Cooper welcomed Teresa Giudice back onto his show just one day after he branded her a "bully" on air and as RadarOnline.com exclusively reported he would do, the host apologized.
The Anderson Live host offered a heartfelt sorry to the Real Housewives of New Jersey star for being rude to her on his show and his guest graciously accepted the apology.
"After I did that interview someone in the audience got involved, it was a teacher, she said to me that I had been rude and I always listen to teachers," he said. "It got me thinking and it made me really sad that I would have been rude because I didn't want to be rude.
Article continues below advertisement
"I hate rudeness. Honestly all day long I was worried that I was rude. I was like popping Nexium because I had heartburn because the idea of being rude so upsets me."
Cooper could hardly contain his concern and continued to explain his actions which he called "weird" and "aggressive."
However, once the air was cleared, Cooper, gave Giudice plenty of time to talk about her family and her feuds.
Addressing the ongoing issues with her estranged brother Joe Gorga, she said she hoped they could reconcile.
"I love my brother, he's my only brother, we come from a small family. When he wants to be brother and sister again I am there for him, I will never turn my back on him," she said.
Giudice, who said last Christmas was the first year she didn't spend the holidays with her sibling, admitted she misses her family and is sad that fame has come between them.
"I love my nieces and nephews, we used to say we couldn't wait until we got married because we couldn't wait for our kids to grow up together. Now, it's been a year and I haven't spoken to him because of fame," she bemoaned.
Article continues below advertisement