RHONJ Reunion: Jacqueline Laurita Accuses Teresa Giudice's Husband Of Cheating, Says They Hit Each Other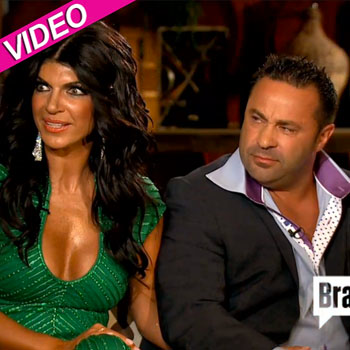 Article continues below advertisement
"Didn't he cheat on you a long time ago? That's what you told me," Teresa says, which Jacqueline denies.
"Fine, then he didn't cheat on you. That's why you told me you didn't trust him. That's why he's not allowed to go out."
And that's all it took for Jacqueline to unleash on Teresa!
"Now that we're being honest, he calls her those names all the time and she calls him names and then they punch each other," Jacqueline says, referring to the episode where cameras caught Joe calling Teresa a "b*tch" and a "c**t."
"Yeah I punch him like if we're playing around…" Teresa snaps back.
"No honey, no, you guys get into some pretty bad…I've heard every name in the book," Jacqueline claims.
"And now that you're going there, you told me your husband cheated on you several times. You caught him with his secretary, the babysitter…and you asked me what you should do because my ex-husband had cheated on me."
"I told you my husband cheated on me?" Teresa questions. "Jacqueline, if my husband cheated on me, he would not be sitting on this couch right now."
Article continues below advertisement
Teresa Giudice's Cousin Threatens To Rip Her Head Off On Real Housewives of New Jersey Reunion