Exclusive
The Story Changes! Kim D Claims Teresa Giudice Did NOT Know About Melissa Gorga Stripper Ambush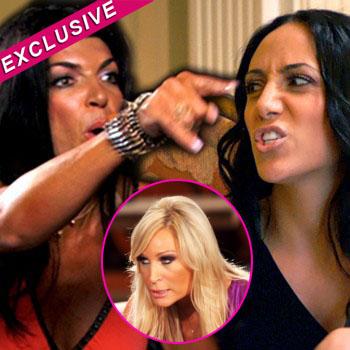 Article continues below advertisement
"Did I know what I was getting us into? Yes. Did Teresa? Not at all," Kim claims. "I know for a fact Melissa worked at Lookers and was a dancer.
"Not only have eyewitnesses told me, random people have come into my store, Posche Boutique, saying she was a dancer not a bartender."
Kim's story has changed significantly from a year ago, when her rep insisted to RadarOnline.com that Kim had nothing to do with Melissa's ambush.
"Melissa doesn't like the word stripper, so we'll call her a dancer," Kim concedes.
So will Melissa and Teresa's friendship ever be mended? Fuhgeddaboudit! Says Kim!
"There's way too much water under the bridge. There's no hope for them ever having a good relationship. It's done," she asserts.
For more exclusive details on Kim's part in the Teresa and Melissa feud, as well as the incident where she says Joe Gorga raised a fist to her face, pick up the latest issue of Star magazine on newsstands Thursday.