'Real Housewives of Miami' Return Packs Some Heat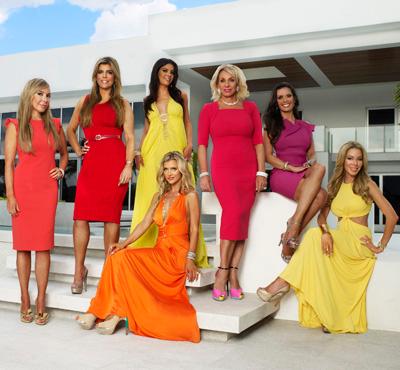 It has the money from Beverly Hills (Adriana De Moura demands that her fiancé make room on his new antique yacht for her baby grand piano); the plastic surgery from Orange County (Lisa Hochstein's hubby has performed more boob jobs than anyone in the country); and the attitude of New Jersey (yes, a punch is thrown). And as the second season of The Real Housewives of Miami begins, Star magazine reveals four new women join the cast to turn this hard-partying town upside down.
Article continues below advertisement
"There's friction between some of the new girls and the old girls," Marysol Patton, owner of a successful PR company and daughter of "seer" Elsa, tells Star. "Personally, we pretty much all got along."
However, the same can't be said for Marysol's fellow veteran, Lea Black, the old-money socialite who rubs all the new girls the wrong way. They include Lisa, celebrity dentist Karent Sierra, lawyer Ana Quincoces as well as supermodel and Dancing with the Stars contestant Joanna Krupa. Lea is destined to become season two's biggest baddie, but she's definitely not the only one in Miami with attitude. "We have a lot of personality!" says Marysol.
For big-busted Lisa, who has posed for Playboy and calls herself a "walking business card" for her husband, the biggest challenge was being taken seriously.
"People definitely judge me by my cover," she tells Star. "I dress sexy, I'm very young and I'm married to a prominent plastic surgeon. People are either intimidated or they think I'm going to be a bitch. But when they get to know me, they realize I am very down-to-earth."
If Lisa needs pointers on how to win fans, she can get them from Marysol's mom, Elsa, the surgically enhanced eccentric who claims she can see the future and has become the show's breakout star.
"It happened very organically," says Marysol of her Mom's success. "She gets excited having a film crew to entertain. She's always asking me, 'Where are the cameras? When are they coming over?'"