Brandi Glanville: Eddie Cibrian Cheated & Left Me Broke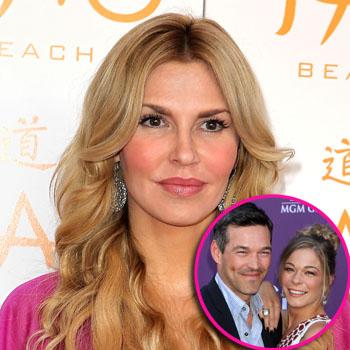 Talk about adding insult to injury!
Not only did Eddie Cibrian publicly humiliate Brandi Glanville by cheating on her with Leann Rimes, the Real Housewives of Beverly Hills star says he also left her penniless, after years of overspending left the couple with very little savings when they divorced.
The mother-of-two tells the NY Post she and her then-hubby "were living way above our means," and when they split, "There wasn't a lot to get."
Article continues below advertisement
Brandi, who's from Sacramento, admits she faced some tough life lessons following the 2009 parting, as she struggled to get adjusted to her newfound responsibilities.
"I was a 36-year-old woman who couldn't lease a car and couldn't lease a house," the ex-model told the paper. "For 13 years, my name wasn't on one account. I am still building my credit."
She said she's finished a book detailing her heartbreak in the wake of the cheating scandal, adding her two sons with Eddie, Mason and Jake, "for now … just know that Daddy fell in love with somebody else."