Lisa Vanderpump Gushes About Brandi Glanville: 'She's a Kind, Compassionate Human Being, A Great Mother'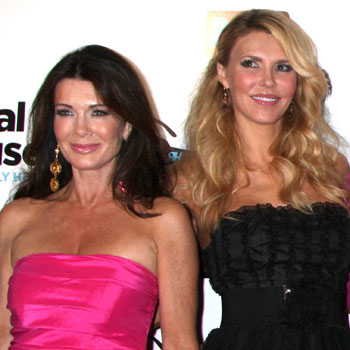 Article continues below advertisement
As viewers saw on the season premiere of the hit reality show, Brandi's drama is back in full force, but Lisa explains why she likes her straight-shooting friend.
Never one to mince her words, Lisa says, "Brandi is very direct and honest and sometimes people don't want to hear it. Unfortunately her children are not on the show, so I think viewers don't see the most admirable quality I like about her. She is a kind, compassionate human being, a great mother and I see her interact with the boys that are her life."
Dogs have been a big part of the show, especially Lisa's furry friend Giggy, and she says that's how she first bonded with Brandi.
"In a nutshell, when we were in Hawaii last season, there was a dog that was about to be destroyed. I told Brandi about it as I already had four dogs and couldn't take another, and she turns to me and says, 'I will take this dog because I can have a dog and I can see it's upsetting you,' though I hardly knew her. We bonded, and I thought to myself 'I bloody love this woman!'"
Article continues below advertisement
Insane jealousy is par for the course in the world of the Beverly Hills Housewives, and now that Brandi has replaced Kyle Richards as Lisa's bestie emotions are sure to run high.
So is Kyle jealous, Okmagazine.com asked?
Answering frankly, Lisa said "I don't know you'd have to ask Kyle."
Could there be any better drama than rich Beverly Hills ladies who fight while wearing designer dresses?
Tell us what you think about the Real Housewives of Beverly Hills in the comments!