Exclusive
Taylor Armstrong Is Dating Again, But Keeping It On The Down Low!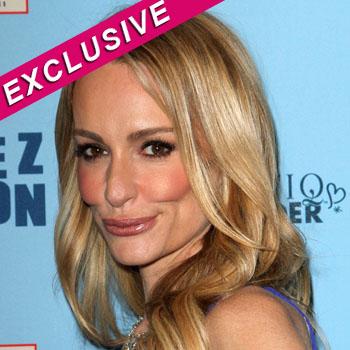 Article continues below advertisement
"Taylor is relieved filming is almost over for the new season as she has been dating and she's had to sneak around to keep it off camera," a source close to the situation tells RadarOnline.com. "Taylor isn't getting serious about anyone but she has definitely been dating. However, Taylor doesn't want her love life to play out in front of cameras and she believes she will be vilified by viewers for dating. Taylor has moved on with her life though and thinks the next natural step is to put herself out there. Taylor has talked about wanting to find the right person and possibly even getting married again one day. She is open to the idea and feels that she has learned so much by her past mistakes."
Kim Richards recently had a party at her house where she unveiled her new nose to her cast mates, and although Taylor made an appearance she soon sneaked out the backdoor to meet a guy!
"Taylor ducked out early so she could sneak off and meet up with her date," the source says. "I think she also left early because Kim didn't have any alcohol there because it was also a sobriety party. Kim has come so far in her recovery and wasn't serving any booze that night."
Article continues below advertisement
HOTOS: Reality TV's Hottest Stars
It's been a rough year for Armstrong as she has been leaning on the bottle heavily to deal with the stress in her life and suffered a catastrophic meltdown during filming with the ladies during a getaway trip to Ojai.
"Taylor was all over the place while the cast was shooting at the Ojai Valley Inn," a source previously told RadarOnline.com. "She would start drinking very, very early in the day. The ladies are all very concerned about her, especially Kyle Richards. They have spoken off camera about their desire for Taylor to stop drinking, but so far, nothing has happened. Taylor had a catastrophic meltdown on camera during the trip that will truly shock viewers when they see it on air this fall."