Exclusive
Jose Canseco & R Kelly's Former Wives Talk About Being Hollywood Exes, Slam Real Housewives!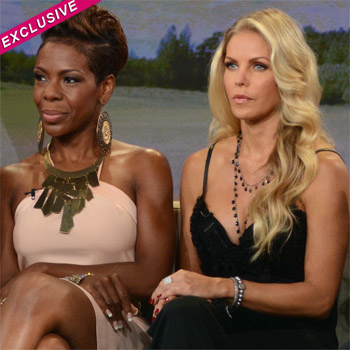 By Debbie Emery - RadarOnline.com Reporter
Instead of focusing on the b*tching, back-stabbing and drink-throwing drama that are the focus of shows like Real Housewives and Jersey Shore, VH1's latest reality venture is all about female bonding, RadarOnline.com is exclusively reporting.
According to star Jessica Canseco, Hollywood Exes is all about empowering women -- and not encouraging them to spark drama between each other. "We need to support each other as women rather than beating each other up," she told RadarOnline.com in an exclusive interview.
Article continues below advertisement
"You put a bunch of girls in a room and you're going to get fights and disagreements and that's just the way it goes, I fight with my own sisters," revealed the ex-wife of former baseball star Jose Canseco.
"We do go through some ups and downs and we're all about passion when it comes to things, and we're going to agree to disagree, but at the end of the day we really are sisters and we really do care about each other so we come back together."
Joining Jessica in the love fest are Andrea Kelly, ex-wife to rapper R. Kelly, Sheree Fletcher, ex-wife of Will Smith, and Mayte Garcia, ex-wife of Prince.
"It is absolutely a different message to other reality shows where the women are not even friends and they end up hating each other. Why would anyone want to bring somebody down?" she asked.
"I like the Beverly Hills Housewives, but I just don't care for the shows where they don't like each other and they're not getting along. I don't care to keep continuing to watch something and it's episode after episode when they are continuing to hate each other," said the bemused single mom.
Article continues below advertisement
"What good is that? What is that teaching us? I don't get it. That's what is so great about our show, women need to support women."
Co-star Andrea Kelly agreed, telling RadarOnline.com that Hollywood Exes "is a true sisterhood. You can see how we really support each other because our lives are so parallel," she explained.
"The stories are the same but we're just changing the names. Sometimes when you look at celebrity it's like smoke and mirrors, all the glitz and the glam and the luxury, and the trips, and nobody gets to see what's under the red carpet.
"This show gives you a peak as to what is under there and it allows ourselves to be vulnerable," revealed Kelly, who divorced her rapper husband in 2009 after 12 years of marriage which included allegations that he had sex with an underage girl.
"You get to see our insecurities and ups and downs, we have days when we're not feeling good about ourselves, and days when we want to lie in bed and cry."
One of the most controversial scenes in the recent premiere episode showed Jessica and Nicole Murphy enjoying an alternative day out at the spa getting a vaginal rejuvenation treatment.
Article continues below advertisement
"It's part of my personality, I'm not afraid to show Jessica and that's just Jessica," explained the business woman who runs a cosmetic tattooing and beauty imaging company.
"I put women together for makeovers and lasers and a lot of time I would never recommend something that I have not tried. If I am going to send someone to laser their face or get Botox, then I'm going to try it first.
"Then again, I'm not going to lie, I love stuff like this! We live in LA and you want everything to be perfect!"